Steering Gear & Linkage for 2001 Toyota MR2 Spyder
No.
Part # / Description
/ Price
Price
Power Steering Pump
Fits MR2Power Steering Pump - Repair or ReplaceIf the steering in your Toyota whines or groans, or if your steering wheel is hard to turn, you may have a failed Power steering pump. MR2.
Outer Tie Rod
Paseo. Manual steering. Tercel. MR2. Power steering.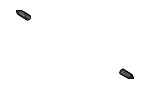 Discontinued
Discontinued
Discontinued
Discontinued